It has been a very busy but successful Duke of Edinburgh season to date, and it is fantastic to be back to running expeditions in a normal way after the very disruptive lockdown period. The girls at all levels have done the school very proud on expeditions.
We kicked the season off with the 4-day Gold Practice expedition in Edale, (the Dark Peak District), where the four girls of "Cirque de Sore Legs" walked in excess of 50 miles over very steep terrain and faced torrential rain on the last couple of days.
The three Silver groups were faced with even harsher conditions and had to camp, walk, eat, and sleep in rain, sleet, and snow in the White Peak District near Buxton. The instructors were incredibly impressed and even commented that they worked with army groups who didn't show as much resilience and determination!
Finally, the five Bronze groups had better luck with the weather and all groups completed successful practice expedition on the Rutland/Northamptonshire border. Even though terrain is not as challenging as that at Silver or Gold level, the girls showed grit and determination and were able to walk independently from the instructor on the last day.
Insights from the "Oopsa Daisies" Group
During DofE we had many funny moments. One was Bella, Lily and Emaya's popcorn karaoke; we would hear them singing Christmas songs, Bohemian Rhapsody and many kids theme tunes over and over again. On the second day we were so fast that we managed to walk 12km in 4 hours and were told to sit for an hour and wait or else we'd arrive far too early!
The experiences we enjoyed the most were probably rating the different houses on how big and modern they were and walking through the woods alone. We loved how we were given the independence to read a map and find our way to the finish. We really enjoyed the beautiful views, the photos that Bella took and the feeling we got when we arrived at the campsite. The evening was really fun as everyone got together and cooked by our tents and talked about the next day ahead.
We faced some challenges as many teams would have. Map reading and navigating is hard, but we managed to not get lost and navigate very well. We had a little mishap where there was a footpath on someone's drive that was surrounded by private land, but we read the map and made the executive decision to get off the drive. By our surprise the drive was actually part of the footpath. We also had to get through a cow field where we held each other's hands and stuck to the sides and we didn't panic. We navigated it perfectly and the cows didn't bother us at all; they didn't even notice we were there.
The reason we did well on this practice expedition was because we all worked together as a team, shared our ideas and came to decisions swiftly. Although there were times when we didn't all agree, we worked it out calmly which helped us not to get lost and move forward. We all had a go at map reading which was new for some people and helped each other to read it. After cooking we all had a different job to help clean up and made sure each person was doing something. We didn't procrastinate getting ready in the morning and we all packed away either a tent, a stove, inner tent, and the rest of the group kit as a team. We were always on our feet doing something! If one of us was unsure of something we either asked an instructor (who was lovely and helpful) or we asked a group member.
We would recommend DofE to younger students, as it is an excellent way to develop skills and attitudes you need to become a more confident version of yourself. Volunteering is an excellent way to develop work space experience. It's also very fun as you build new friendships and self-confidence, work as a team, and learn from giving to others in the community. We would recommend choosing a skill that will challenge you and is new as it is a lot more fun and exciting.
Kingsley Girls Share Their DofE Experiences
I completed my Bronze DofE last year and I found it a positive experience. For someone who had never been camping I found it exciting and made same amazing memories. It also allowed me to develop new skills such as map reading and putting up a tent. This has encouraged me to go onto doing Silver, which I will be completing this June.
Ikeira
Duke of Edinburgh has allowed me to blossom as a person and continuing it onto Gold was a decision that I am very happy with. The whole process has allowed me to develop into a mature leader and it is preparing me nicely for life beyond Sixth Form.
Sophie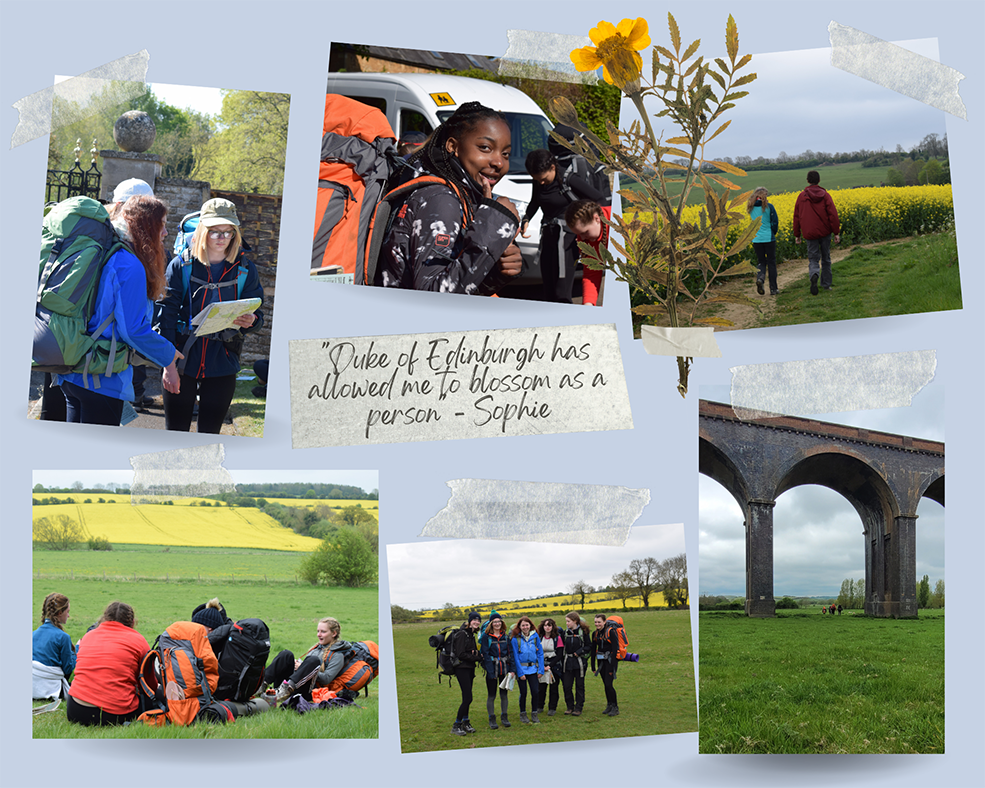 I started my silver D of E, not having done my bronze; it is not the usual custom – however it is absolutely fine to do. The instructors catch you up on any map reading or first aid training you will need, and your team will of course support you. I had an absolutely wonderful time on my Silver practice expedition, even though I had not done Bronze, it did not hinder me in any way. I am very much looking forward to the qualifying expedition after GCSE and would 110% recommend it regardless of whether or not you have done Bronze.
Jasmine
My Duke of Edinburgh journey has made me a better, more confident person as it gave me independence, confidence and the organisation skills needed for the future.
Georgina
Personally, I don't think I would be determined and confident enough to apply for a Head of School position if I didn't do DofE. As DofE has taught me all of these skills, from leadership skills to determination.
Morgan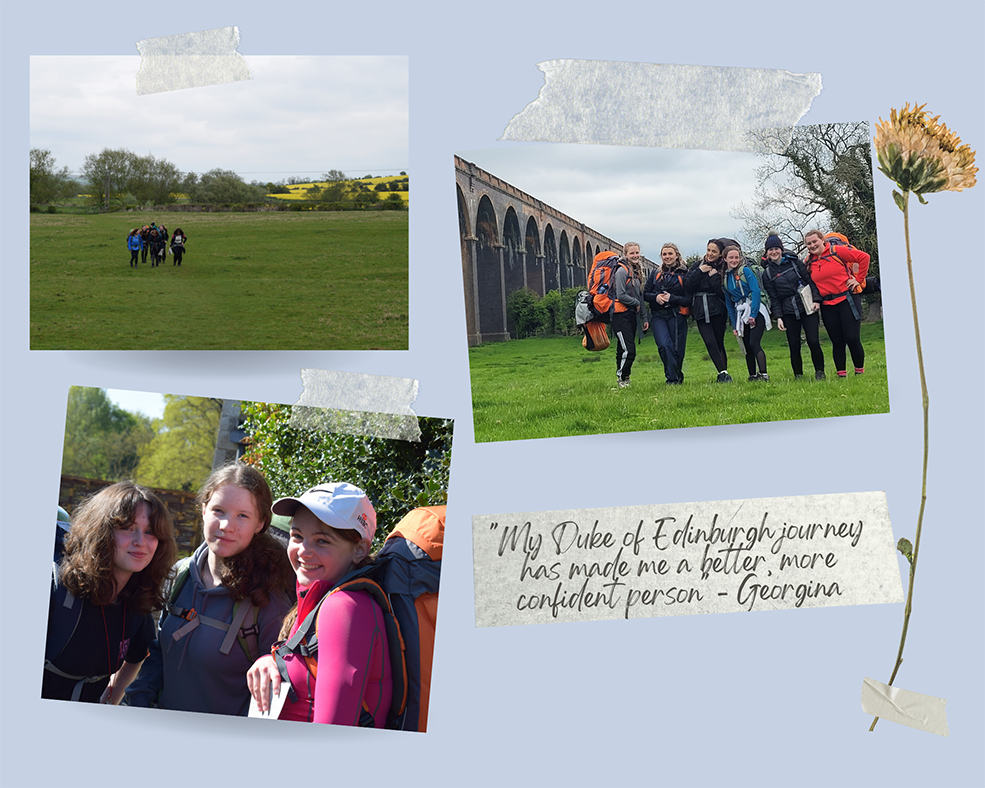 We have just completed route and menu planning for the qualifying expeditions and all girls are feeling prepared and looking forward to completing the last leg of their awards. The destinations for the expeditions will be the White Peak district near Hartington for the Bronze Qualifying expedition, The North Yorkshire Dales for the Silver groups, and the beautiful Lake District for the Gold group.
All girls who have successfully completed their Bronze or Silver awards will be invited to our prestigious Awards evening in October, or to Buckingham or St James' Palace at Gold level.
Liezl Laubscher | Teacher of Maths